While keywords allow you to attract searchers looking for your products, negative keywords will enable you to eliminate searchers who aren't.
If you want your ad budget to go further and see fewer wasted clicks on your ads, we highly suggest using negative keywords in your next digital marketing campaign.
What are negative keywords?
Negative keywords ensure that Google won't show your ad when a specific search term is used in search results. Including negative keywords in your ad campaign prevents your ad from being shown to people who are likely uninterested in what you sell.
With 3.5 billion Google searches every day, there's a good chance that your ads are being shown in irrelevant search results, and generating irrelevant clicks. It is better to not show these ads to users who have a low probability of buying as you still have to pay for their click.
For example, if you are a men's dress shoe retailer, negative keywords can be used to prevent your ads from showing to people searching for styles you don't stock. Ideally you should be attracting customers with keywords — like 'men's dress shoes' and filtering out irrelevant searches with negative keywords — like 'men's running shoes.'
The men looking for running shoes were never going to be interested in purchasing a dress shoe off your ad. Therefore, it makes sense to exclude your ad from their search results.
Negative keywords act as a filter for irrelevant searches and can help your campaign become more targeted, resulting in higher ROI (return on investment). Both keyword actions help to narrow and strengthen the audience your ad is shown to.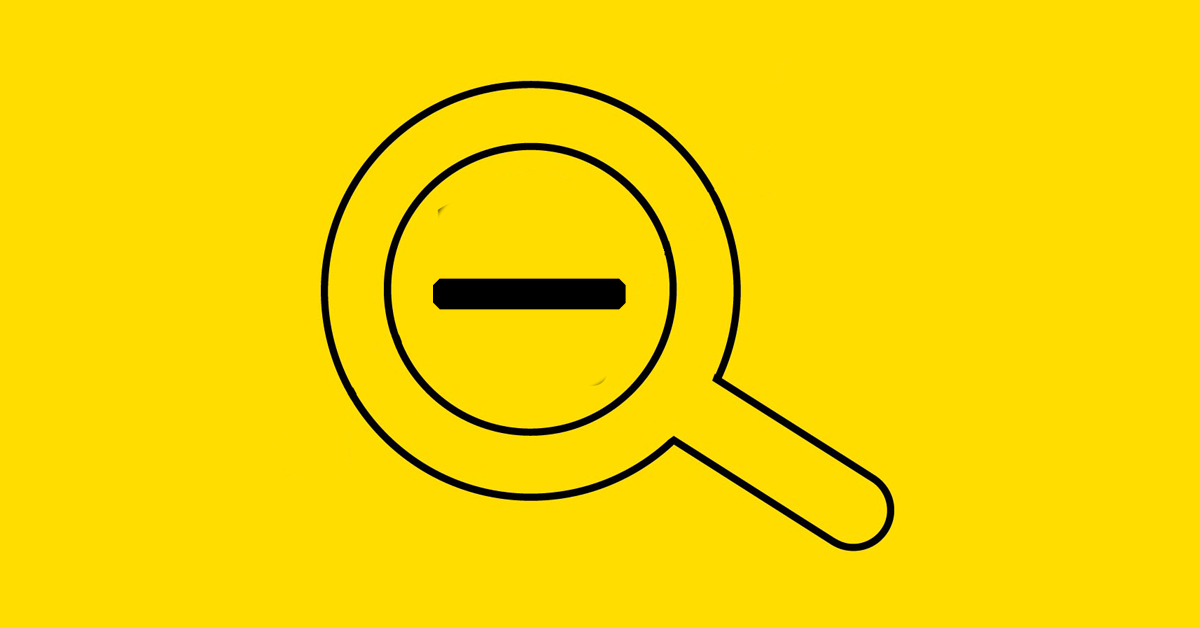 Campaign Level And Ad Group Level Keywords
Negative keywords are added at the campaign level or the ad group level. What's the difference between campaign and ad group negative keywords?
Campaign: Use this if you don't want your ads to show up in a given search. For example, if you don't stock women's wetsuits and never plan to.
Ad level: Use this to gain more control over your ad groups. You may sell women's wetsuits but want to create specific campaigns dedicated to promoting that product. Perhaps you have a sale on men's wetsuits and wish to prevent your ad from being shown to women right now.
Advantages To Adding Negative Keywords
Now that you know how to use negative keywords, here are some advantages you might see from including them in your next ad campaign:
Higher click-through rate (CTR): Use negative keywords to stop your ads from appearing in irrelevant search terms. You will have fewer people clicking and abandoning your site when they can't find what they were looking for.
Your budget goes further: Using negative keywords will help your budget go further. Negative keywords like 'job', 'opportunity' or 'about' can prevent your ad from appearing in front of people looking for information about your industry and not what you are selling.
Higher conversion rate: Negative keywords like 'free' could stop your ad from being clicked on by people interested in your ad but who don't want to pay for a service. Eliminating these will help to attract users who are looking to buy and thus raise your conversion rate.
How To Add Negative Keywords
Using Google AdWords editor select your campaign, click on the keywords arrow and select keywords 'negative.'
Select 'make multiple changes in the top search bar.
Choose 'use selected destination' and choose either 'campaign' or 'ad group level.'
Change the drop-down arrow to 'Keyword' and paste or type in your selected negative keywords.
Create A List Of Negative Keywords
Negative keyword lists are a fast way to eliminate keywords across your entire account. To do this go to the 'Tools and Settings' tab in your Google Ads. Under 'Shared library' select 'Negative keyword lists.'
From here you can name your new list of negative keywords and the match type you would like.
Once saved add your keyword list to an existing campaign using the keywords tab and selecting 'use negative keyword list' from the 'add negative keywords' option.
What Negative Keywords Should I Use?
The negative keywords you use should be specific to your industry or business. Think about the products you sell and what you don't sell. You can also use Google's search term report to see which words have triggered your ad. Take note of ones that aren't relevant to your products.
Some negative keywords are helpful to a wide range of industries and will prevent your ad from showing to people who are searching for information rather than a product or service. These include:
Free
Job
Opportunity
About
How to
Information
Case Study
Salary
Youtube
 Position
Video
Torrent
Sample
Advice
Classes
College
Image
Seminar
Now that you know about negative keywords, have a go at adding them to your next Google Ads campaign, or send us an email at hi@blitzdigital.co.nz, and we'll take care of it for you.