We often get asked what the fastest way to raise your SEO game is, and it's a simple answer: Google My Business. It's unfortunate, but we have to please the Google gods. They love websites with good copy that they can read, and any products that Google puts out. Google My Business is one of these.
WHAT IS GOOGLE MY BUSINESS?
Google My Business is an easy-to-set-up and free Google platform that showcases your business's profile in Google Maps and Search. It allows you to show your business locations, or services areas, list products and services, add photos, post updates, and get customer reviews.
WHAT DOES GOOGLE MY BUSINESS LOOK LIKE?
Let's pretend that we search for a digital marketing agency in Wellington.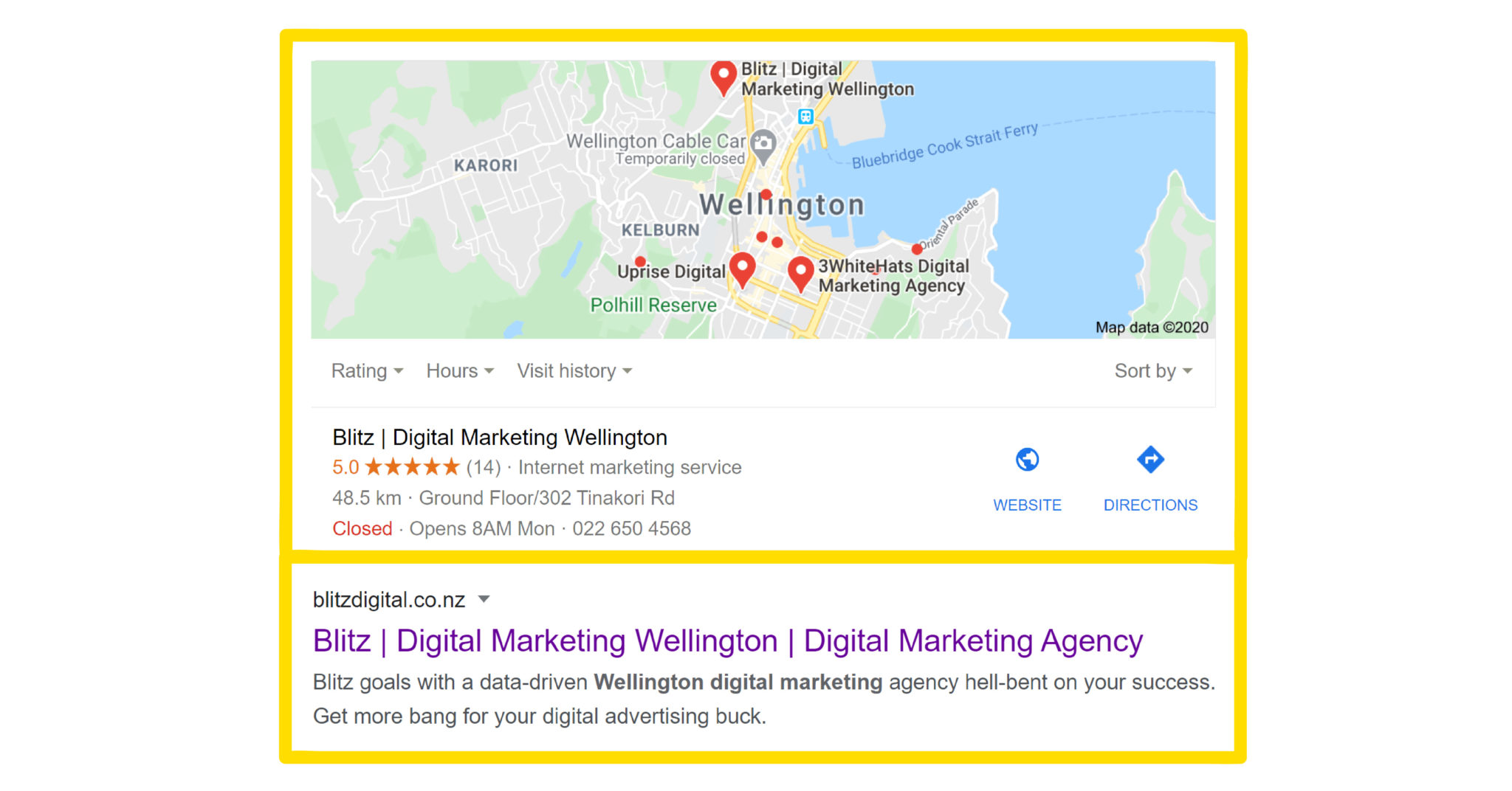 As you can see above, with the search terms "digital marketing wellington", Blitz Digital shows up under two different forms. The top one is linked to our Google My Business account. You can access more businesses by clicking on one result or on "more places" displayed further down. See below what happens when you click on "more places":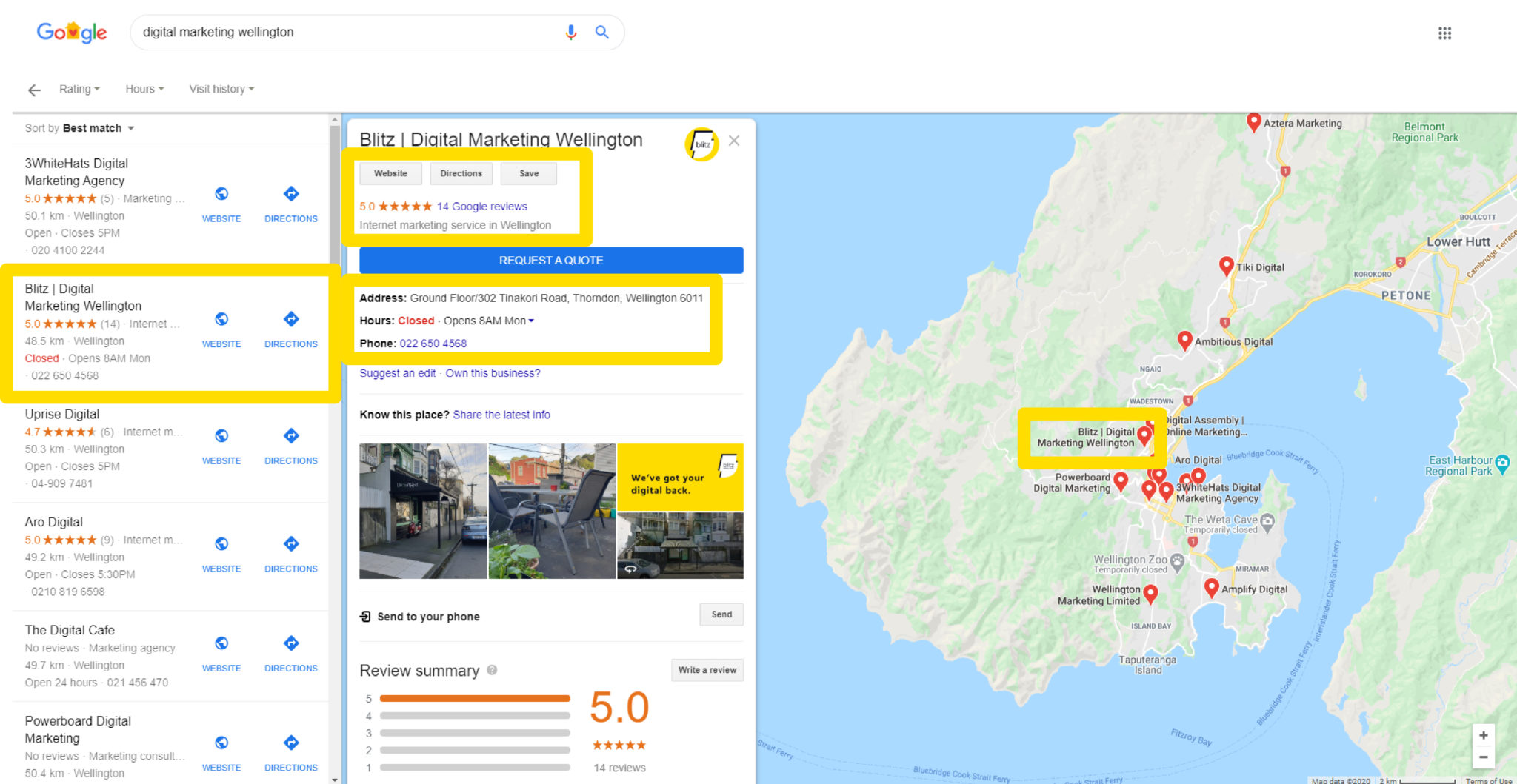 This gives you an overview of the digital agencies in Wellington that have a Google My Business profile.
WHY IS GOOGLE MY BUSINESS IMPORTANT?
Because you want to be found in local searches! Google is magically efficient at answering all of our questions. It makes sense given that the search engine registers over 3.5 billion searches per day. Amongst these, Google has reported that an incredible 46% of all searches aim to show local companies. More importantly: 97% of search engine users searched online to find a local business. And these searches have great value. Local searches result in purchases 28% of the time!
Only 16% of users search for businesses by typing in their exact name. This is important. Most users search for a service or product and then discover your brand. Help them discover your small business first and easily with an up-to-date, optimised Google My Business profile!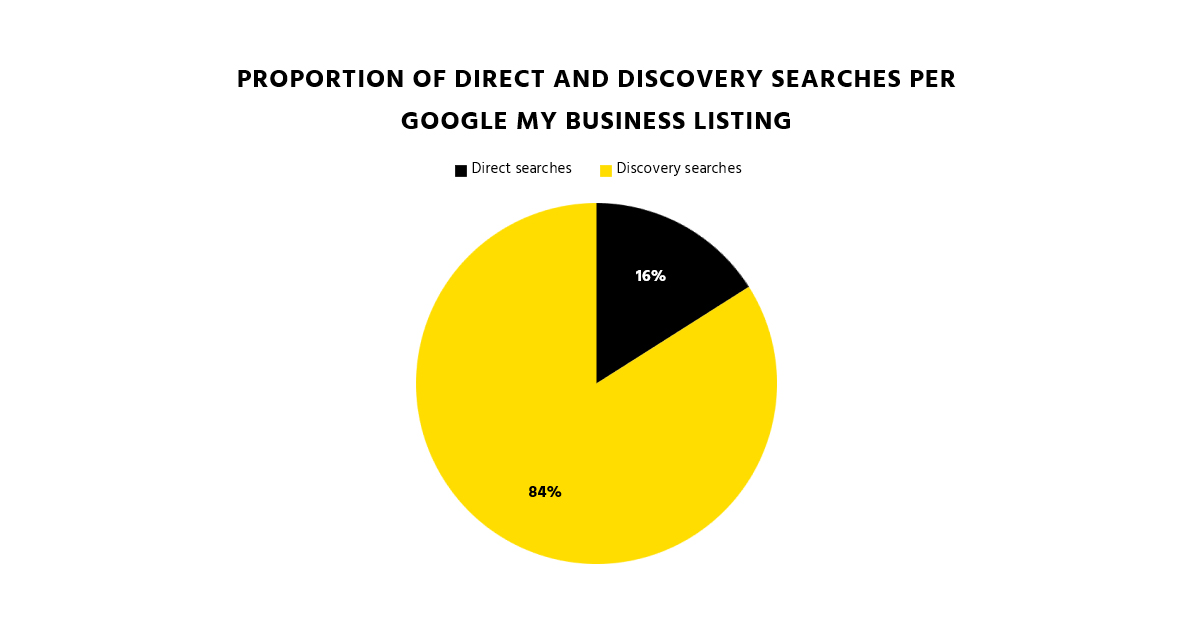 (datasource: https://bit.ly/39umWzb) 
2. SHOWCASE YOUR BUSINESS AND INFORM YOUR CUSTOMERS
Google My Business gives you the opportunity to showcase your service/products through a short description and pictures. Keep your description brief but complete and make sure you use the keywords and language your customers would use. This is how Google will "see" your business and give it relevance to search queries. Make the copy unique. Google hates to read things twice (more accurately, it doesn't like repeat content and demotes it in listings) so ensure you're saying the same things that are on your website but in a unique way.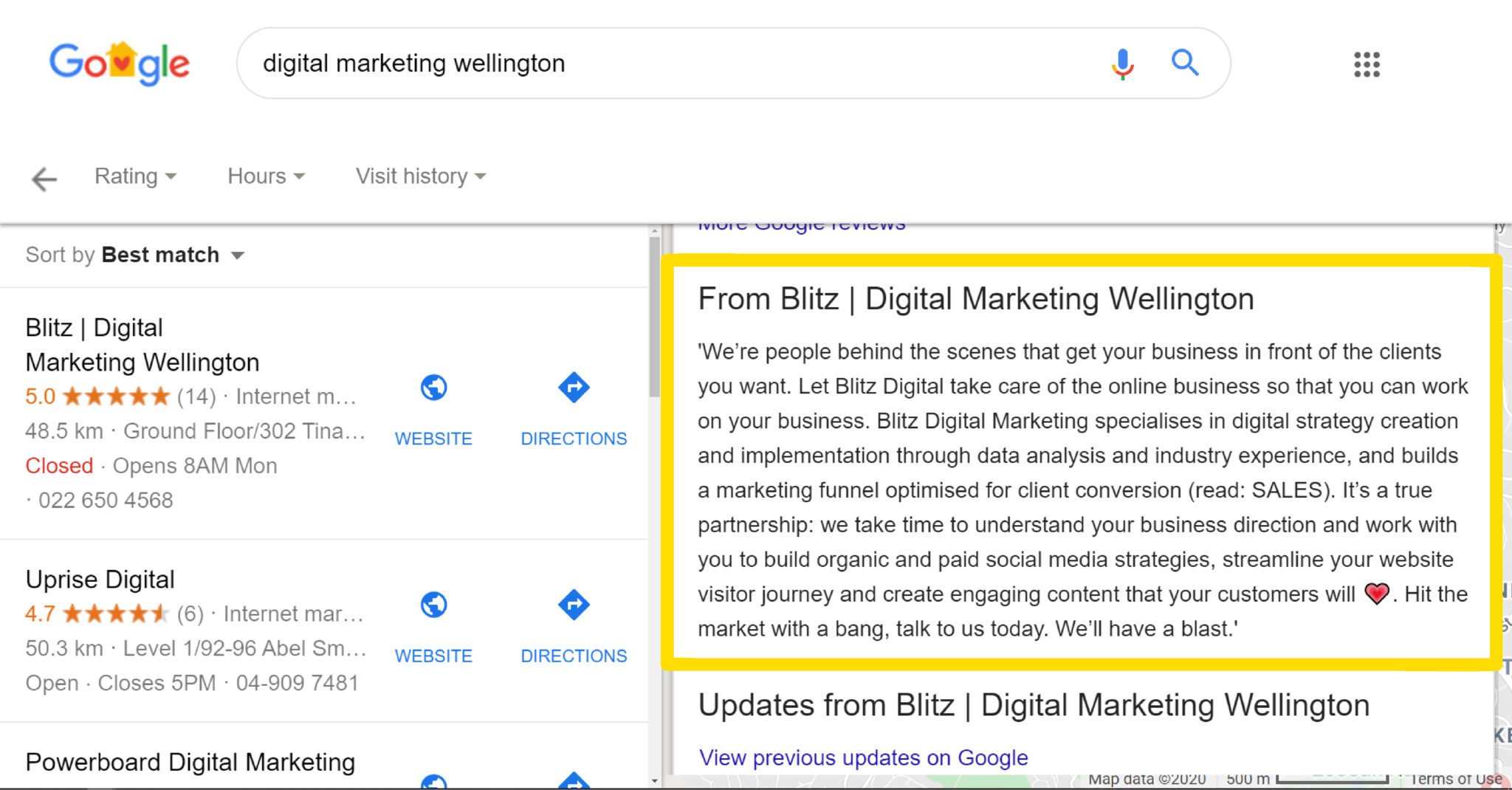 Photos are important: according to Google reports "Businesses with photos receive 42% more requests for driving directions to their location from users on Google, and 35% more clicks through to their websites than businesses that don't have photos."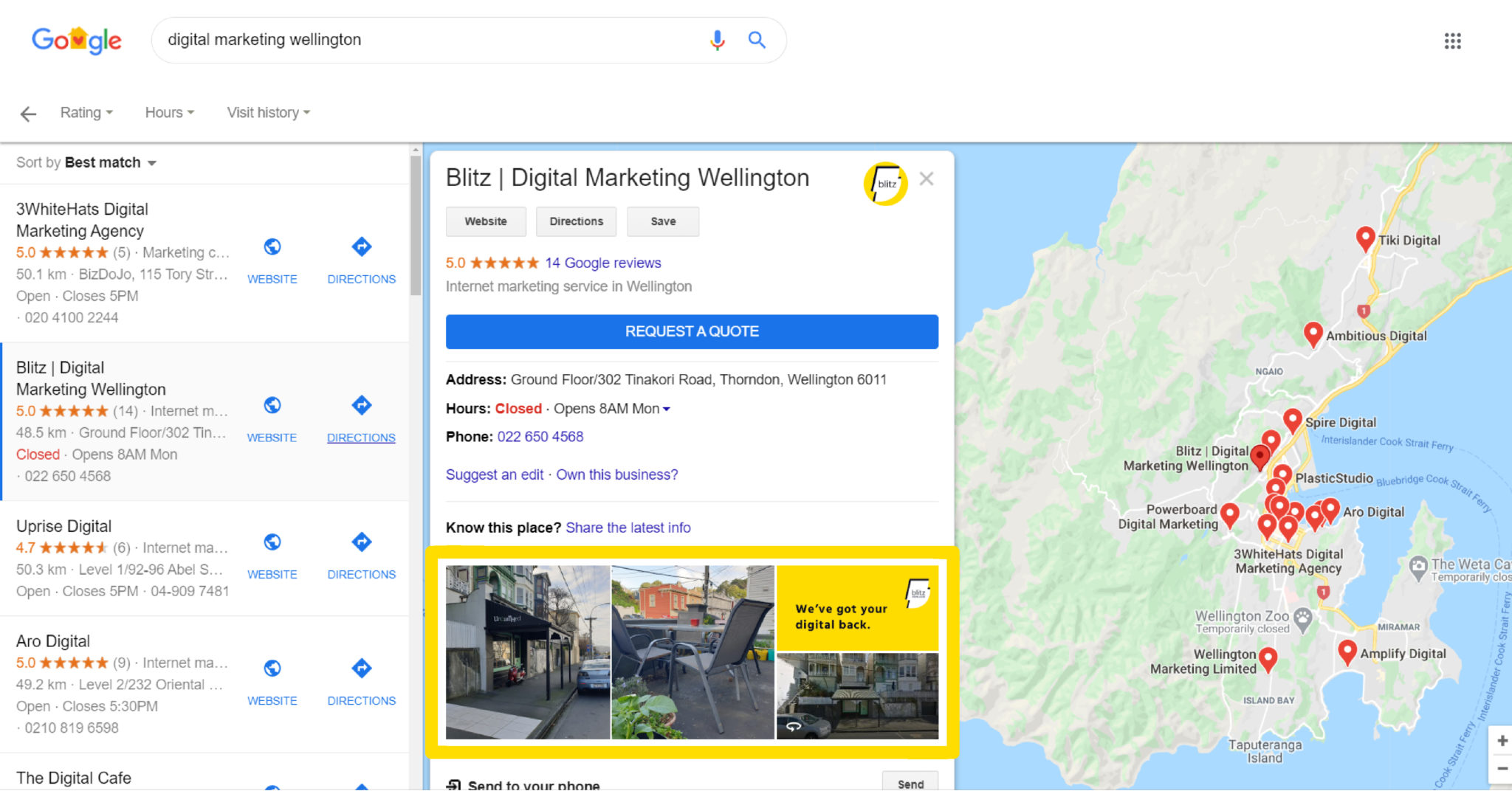 So add photos of your exterior, interior, work you've done or products, and staff – people like looking at people!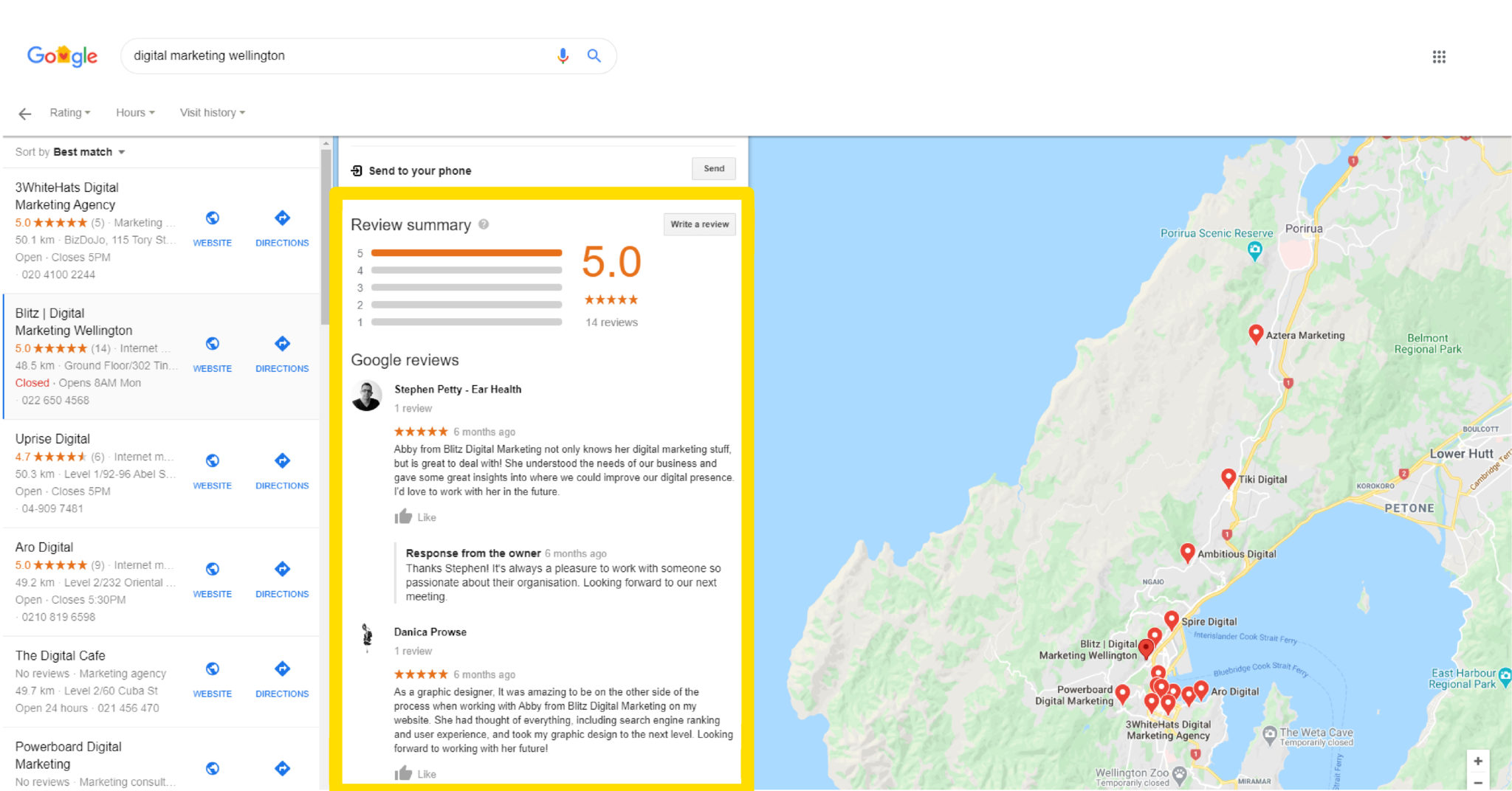 And here is the real drawcard: customer reviews (learn more about the importance of reviews and how to get them for your business here). User reviews increase trust in your business and are an important factor for many customers. According to a review tracker report, 63.6% of consumers are likely to check the Google reviews of a business before visiting their website. Not to mention, Google loves them! They are the fastest way to raise your search rank. It tells Google that you're an active business that people like to interact with. And that's what matters most to Google.
3. KEEP YOUR CUSTOMERS UP TO DATE
Potential customers naturally turn to Google when looking for products or services like yours. You can keep them up to date on what is happening in your business here. This can include:
Updates on your opening hours – are you open during Easter? What time do you open?
Sales information – let your customers know of specials, events and product launches
Posts about services and products – showcase your everyday activities, just like other social media platforms.
You can also message directly with your customers via the Google My Business app!
THE RESULTS OF GOOGLE MY BUSINESS OPTIMISATION

A year ago we optimised a client's Google My Business account. They had a listing, but it was sparse. We filled it out with SEO optimised content, posted on the profile, and responded to reviews (this is very important! Google doesn't "see" a review unless it's responded to). The data above is a year-on-year review across one month, showing how our work on the Google My Business (and full disclosure, other search engine optimisation work on their website), raised search impressions by over 600%, and website visits by over 300%!
Using Google My Business really does help your small business to increase visibility and stay in touch with your local customers. Wanna find out how we can optimise your profile? Get in touch.